Capteur - Pluviomètre - Pluviographe CHU4
Data of calibrated precipitation amount (calibrated data) measured in mm on station CHU 4 by the instrument Pluviographe Davis (pluviometer). Measurements start on 2021-07-25 00:02:00.
Simple
Date (Creation)

2022-09-26
Citation identifier

OSU-OREME-OBSERVIL-TS-2_28
Presentation form

Digital map
Maintenance and update frequency

As needed
Name
GEMET
AGROVOC
Theme

SNO OBSERVIL

Hydrologie et géochimie
Other
Use limitation

Le partenaire fournisseur n'est pas en mesure de garantir l'exactitude,la mise à jour,l'intégrité,l'exhaustivité des données et en particulier le fait qu'elles sont exemptes d'erreurs ou d'imprécisions,notamment de localisation,d'identification ou de qualification. Aucune garantie quant à l'aptitude des données à un usage particulier n'est apportée par le partenaire fournisseur. Les utilisateur·rices utilisent les données sous leur responsabilité pleine et entière,sans recours possible contre le partenaire fournisseur dont la responsabilité ne saurait être engagée du fait d'un dommage résultant directement ou indirectement de l'utilisation de ces données. En particulier,il appartient aux utilisateur·rices d'apprécier,sous leur seule responsabilité :l'opportunité d'utiliser les données; la compatibilité des fichiers avec leurs systèmes informatiques; l'adéquation des données à leurs besoins; qu'il·elles disposent de la compétence suffisante pour utiliser les données. Le fournisseur partenaire n'est en aucune façon responsable des éléments extérieurs aux données et notamment des outils d'analyse,matériels,logiciels,réseaux...,utilisés pour consulter et/ou traiter les données. L'utilisateur·rice veille à vérifier que l'actualité des informations mises à disposition est compatible avec l'usage qu'il·elle en fait.
Use limitation

Les données sont fournies sous la Licence Ouverte 2.0 ( https://www.etalab.gouv.fr/wp-content/uploads/2018/11/open-licence.pdf).
Access constraints

Copyright
Use constraints

Copyright
Use constraints

License
Language

Français
Character set

UTF8
Topic category

Environment

Geoscientific information
Begin date

2021-07-25T00:02:00
End date

2021-12-31T23:59:00
Reference system identifier

EPSG

/

4326
Hierarchy level

Dataset
Statement

Nom de la variable : precipitation amount ; Unité de la variable : mm ; URI de la variable : https://w3id.org/ozcar-theia/c_a9b2927c ; Niveau de données : calibrated data ; Station : CHU 4 ; Instrument : Pluviographe Davis(pluviometer) ;
File identifier

OSU-OREME-OBSERVIL-TS-2_28

XML
Metadata language

Français
Character set

UTF8
Parent identifier

Station - Hydrologie - CHU 4 - Capteurs

OSU-OREME-OBSERVIL-STATION-17
Hierarchy level

Dataset
Date stamp

2022-09-26T12:00:11
Metadata standard name

ISO 19115:2003 Geographic information - Metadata
Metadata standard version

ISO 19115:2003
Dataset URI

OSU-OREME-OBSERVIL-TS-2_28
Overviews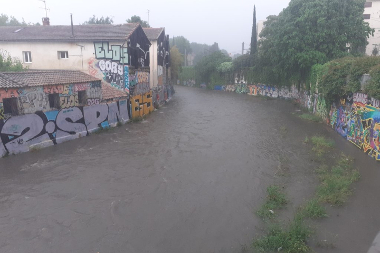 Spatial extent
Provided by

Associated resources
Not available