MNT et MNS de la Barre-de-Monts
Modèle Numérique de Terrain (MNT) et Modèle Numérique de Surface (MNS) obtenue à l'aide du suivi LiDAR de la côte vendéenne au niveau de la Barre-de-Monts
Simple
Date (Publication)

2020-09-22
Citation identifier

https://ids.osuna.univ-nantes.fr/geonetwork/srv/resources1cdbcb21-9f74-4ce2-bc45-f697b0a34f8a
Status

On going
Point of contact
No information provided.
Maintenance and update frequency

Annually
GEMET - INSPIRE themes, version 1.0
GEMET

environnement

altitude

géomorphologie

environnement côtier

télédétection

littoral

côte
Continents, countries, sea regions of the world.
Nouvelles Régions de France
Départements de France
Communes de France

LA BARRE-DE-MONTS (85012)

BOUIN (85029)

BARBATRE (85011)

BEAUVOIR-SUR-MER (85018)
Keywords

Observatoire des Sciences l'Univers Nantes Atlantique (OSUNA)
Access constraints

Other restrictions
Use constraints

License
Other constraints

Le partenaire fournisseur n'est pas en mesure de garantir l'exactitude,la mise à jour,l'intégrité,l'exhaustivité des données et en particulier le fait qu'elles sont exemptes d'erreurs ou d'imprécisions,notamment de localisation,d'identification ou de qualification. Aucune garantie quant à l'aptitude des données à un usage particulier n'est apportée par le partenaire fournisseur. Les utilisateur·rices utilisent les données sous leur responsabilité pleine et entière,sans recours possible contre le partenaire fournisseur dont la responsabilité ne saurait être engagée du fait d'un dommage résultant directement ou indirectement de l'utilisation de ces données. En particulier,il appartient aux utilisateur·rices d'apprécier,sous leur seule responsabilité :l'opportunité d'utiliser les données; la compatibilité des fichiers avec leurs systèmes informatiques; l'adéquation des données à leurs besoins; qu'il·elles disposent de la compétence suffisante pour utiliser les données. Le fournisseur partenaire n'est en aucune façon responsable des éléments extérieurs aux données et notamment des outils d'analyse,matériels,logiciels,réseaux...,utilisés pour consulter et/ou traiter les données. L'utilisateur·rice veille à vérifier que l'actualité des informations mises à disposition est compatible avec l'usage qu'il·elle en fait.




Usage libre sous réserve des mentions obligatoires sur tout document de diffusion : "Source: sous la direction de l'OSU Nantes Atlantique"




Les données sont fournies sous la Licence Ouverte 2.0 ( https://www.etalab.gouv.fr/wp-content/uploads/2018/11/open-licence.pdf).
Spatial representation type

Grid
Language

fre
Character set

UTF8
Topic category
Reference system identifier

EPSG

/

RGF93 / Lambert-93 (EPSG:2154)

/

7.9
Hierarchy level

Dataset
Conformance result
Date (Publication)

2020-09-22
Explanation

L'article 7, paragraphe 1, de la directive 2007/2/CE correspond aux modalités techniques de

l'interopérabilité : il s'agit du règlement relatif à l'interopérabilité : règlement n°1253/2013 du

21 octobre 2013 modifiant et complétant le règlement n°1089/2010 du 23 novembre 2010
Pass

Yes
Statement

MNT et MNS de la Barre-de-Monts
File identifier

1cdbcb21-9f74-4ce2-bc45-f697b0a34f8a

XML
Metadata language

fre
Character set

UTF8
Parent identifier

Suivis LiDAR et hyperspectral de la Barre-de-Monts

6c14024a-df4b-4cb9-b162-f561540639d1
Hierarchy level

Dataset
Date stamp

2023-04-12T10:31:37
Metadata standard name

ISO 19115:2003/19139
Metadata standard version

1.0
Overviews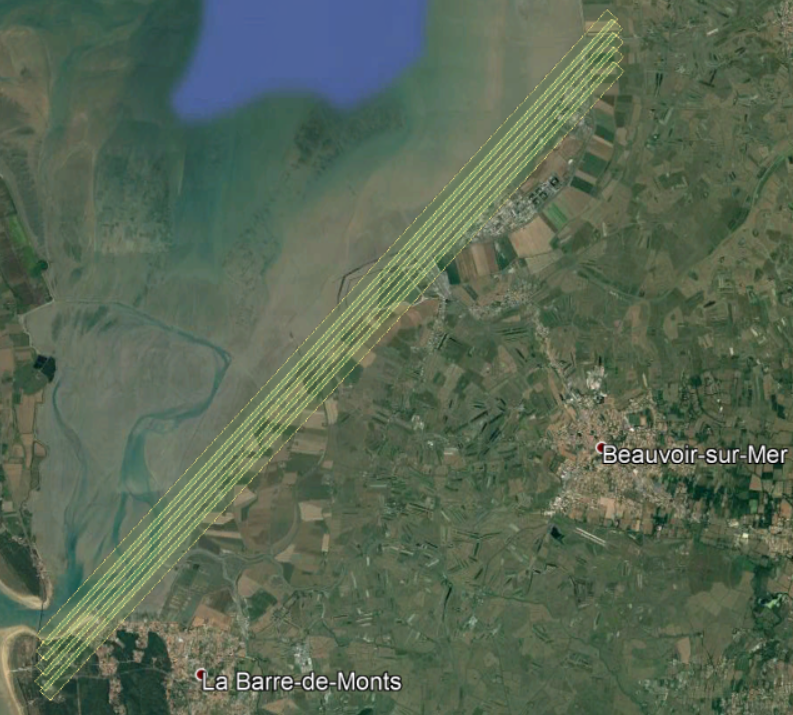 Spatial extent
Provided by

Associated resources
Not available